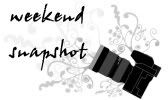 Yesterday, we were invited to a send-off party for our friends who were moving to Oregon. So I decided to make some empanada for them.
The empanada smile.
Yummy beef empanadas with cheese and veggies.
I promise to share the recipe on a different post.
At the BART station, waiting for our Fremont ride.
It was a cold day because Mr. Sun
was busy elsewhere in the U.S.
I still see beauty in the skies.


(Photos taken while on a train ride)
At least the flowers were still out
in its colorful & beautiful attire.
Had a satisfying Mountain Mike's veggie
(artichokes & mushrooms) pizza
in our friend's car.
The pretty lady in the middle (above) is moving
to Oregon with her man.
Chit-chats with friends.
The ladies below both have ankle sprains. They deemed
that he was an appropriate substitute
to rest their aching feet on.
Gorgeous Red Riding Hood.
More yummy indulgence below.
My hubby said the empanada was a sell-out by the end of the night. (He's biased when it comes to my cooking.)
This lovely church organ was obtained free of charge by our friends from
Craigslist
. (Lots of free neat stuff you can find there.) They said it's too bulky for them to take this. We have no space in our apartment & we don't know how to play the organ or piano, so we didn't get it. If anybody lives in Fremont and wants it, just contact me. It's totally free and still plays beautifully.
Warming up by the fire (below) and telling more stories.
My favorite activity that evening: blowing bubbles!
Hubby took these cool action shots.
Rainbow bubbles!
To join or see more Weekend Snapshots, click on the topmost badge. To join and view more Yummy Sunday and Straight Out Of the Camera Sunday photos, click on badges below.