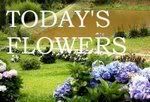 I love flowers and even if I'm not very familiar with all of their names, I capture their beauty as often as I can. My favorite flower snapshot of the day often ends up as my background. I think I've changed my background 3 times this month. For those who come here often, don't be confused. It's still the same ol' me.
But I think I'm keeping the latest template for a long time.
Today, we luckily passed by
Sloat Garden Center :
3rd Ave. SF branch.
I felt like I stumbled into a secret garden. (Oh,joy!)
They are so gorgeous! The downside is that I forgot to check their names! I can be a space cadet sometimes.
So, if anybody of you knows the name of these flowers, please kindly inform me. Thanks!
Update: John said they are called Cinneraria or Cinnerarias. Thanks John!
I will share more flower photos next time. See you then!
(To join or see more lovely flowers, click Today's Flowers badge above)