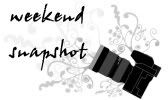 (click badges to join or see more)
We were supposed to go fishing last Saturday with our friend, Jonnie in Fremont. I wasn't feeling well and didn't feel like traveling or waking up early in the morning. It was that time of the month. (
Sorry Jonnie!
) But I'm definitely looking forward to more fishing in the future.
We were just puttering in our apartment, but then decided to go to the pet store and buy stuff for our fishes or probably another cute pet. Hubby got a
fiddler crab
.
I will show photos of Levi (fiddler crab's name) later.
After that, we went to
downtown Oakland, Chinatown
. This is where I usually do my marketing and get my Asian foodstuff fix. During lunchtime, the choice was between an Asian buffet and a Cambodian restaurant. We did the buffet before, so we decided to try something new.
So, off we go to
Battambang Cambodian Restaurant
.
The place was inviting with orchids on the table and they had a wonderful color scheme.
(The shutterbug starts snapping, with permission.)
When I was perusing their menu, I found several food that I liked. Then my eyes were drawn to "Stir-Fried
Frog Legs
". "Say, what? Frog Legs, eh?", I exclaimed. HHmmmm. "I've never had that before. Today is the day to try something new and bizarre."
So, I did! Well, I thought it would be served whole but I was wrong. I should have told them not to chop it.
That would have been more exciting!
It came in a very colorful mix
(as vibrant as their place)
of green beans, red & green bell peppers & onions. I asked for a spicy plate. YUM! I bet you wouldn't guess it's frog legs by just looking at it.
Stir-Fried Frog Legs

(dried and spiced)

with lemon grass, spices, bell pepper, green bean and ground peanuts.
I took my first bite! MMMMM! It tasted like chicken wings. I didn't know it would be firm like that. Very tasty but lots of small bones, which didn't bother me. (Anybody grossed out already?
)
Let's get a macro shot of the thigh.
Hubby tried some of it but he stuck to a 'safer' and familiar food.
"Sach Chrouck Aing" - Grilled sliced pork marinated with lemon grass and spices, served with pickle and lime sauce.
The rice was in this beautifully carved container. I'm transported to Cambodia!
A macro shot of my favorite
chili pepper
.
Hubby learning to use spoon with fork.
(Cute!)
He's just used to knife with fork.
Paintings depicting simple rural scenes adorn the walls.
I hope you enjoyed my post. If anybody feels adventurous and would like to try the "
Stir-Fried Frog Legs
", just go to this restaurant or try a Cambodian or French place near your area. Then, please tell me what you think.